Events
Classified Leadership Institute - June 2015
Six representatives of the Skyline College Classified Senate were proud to attend the 2015 Classified Leadership Institution, and excited to take home four awards including Best Website of the year and the Model Senate award!
Gathering of the Senates - July 2014

Skyline College was proud to host the annual Gathering of the Senates, with representatives from our region of the California Community College Classified Senates.
Classified Staff Summer Retreat - July 2014
Classified Staff members enjoyed a day-long personal and professional development retreat held at College Vista Clubhouse, as well as the Japanese Tea Garden at San Mateo's Central Park.
Classified Staff Get-Together at the Surf Spot - May 2014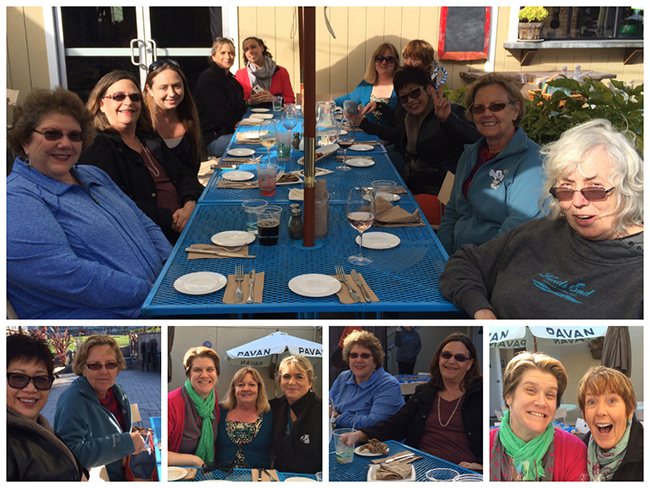 Classified Staff members enjoyed getting together at the Surf Spot Restaurant in Pacifica last week. The laid-back, outdoor vibe was perfect to enjoy some delicious appetizers and drinks, and a little time away from the campus getting to know each other better. Each year, this event and more are organized by the Skyline College Classified Senate. Visit our website at skylinecollege.edu/classifiedsenate to find out more about upcoming events and important information for classified staff.
Classified Senate 2013 Annual Retreat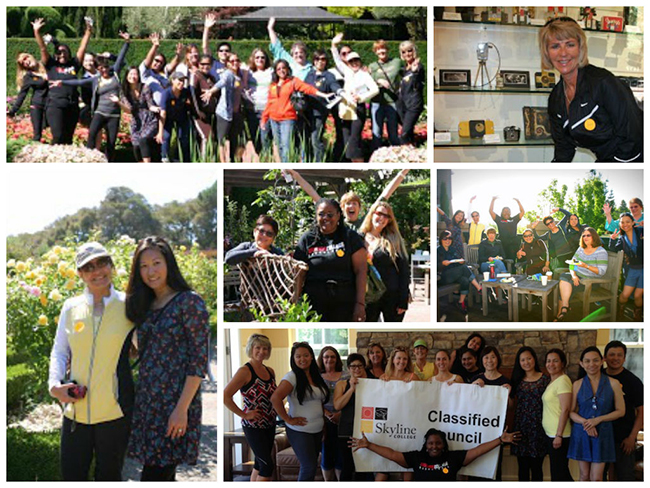 "Fun, Fellowship and Fitness" was the theme for this year's Classified Senate Retreat. The Classified Senate hosted 20 staff members at this year's retreat held on July 25, 2013 at the College Vista Clubhouse. The goal of the retreat was to provide a relaxed environment for classified staff to discuss how they can strengthen their organization and encourage more participation in Senate meetings, campus committees, and classified-sponsored events. The group enjoyed a spirited brainstorming session over breakfast before moving on to the Filoli Estate in Woodside for a walk in the spectacularly blooming gardens. Staffs were able to congregate in small groups, allowing time to get to know each other better and meet new employees that have recently joined the Skyline College family. After lunch, the group worked to create a solid draft for their new constitution and bylaws. Participants appreciated the opportunity to share their thoughts and concerns about many issues that affect classified staff. The day ended with an energetic Zumba Gold session led by instructor Katie Nielsen Mateo, and everyone was sent home relaxed, if a bit exhausted!
Classified Leadership Institute

Skyline College Classified Senate President, Linda Allen and SecretaryNancy Lam attended this year's Classified Leadership Institute Capitalizing Shared Governance to Ensure Student Success. This year's conference, held in Sacramento at the Red Lion Woodlake Conference Center, focused on effective classified participation in the participatory governance process at both state and local levels. The Institute promotes personal development and trains classified staff in professional leadership skills, leading to increased confidence and the ability to communicate effectively. The event offered classified staff from around the state an opportunity to interact and network with their peers in formal sessions as well as in casual discussion groups. The Classified Senate encourages all classified staff to attend this leadership training next year. You may apply for Classified Staff Development Funds if you wish to attend the Institute.
Classified Staff Mini-Retreat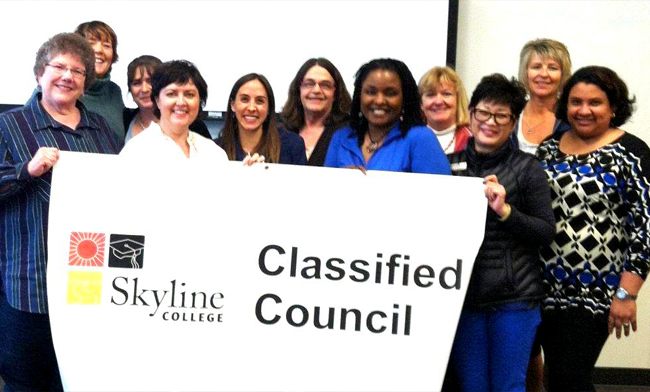 Classified Staff enjoyed a Spring "Mini-Retreat" on Friday, April 12, 2013. A leisurely lunch allowed staff to socialize and welcome several new employees to the Classified Council. Following lunch, the workshop Juggling Act: an Overview of Work/Life Balance was presented by Karen Habegger of Claremont EAP. The workshop topic was selected as a result of a recent Classified Council survey, in which staff were asked to choose workshop subjects they were interested in attending. Ms. Habegger engaged Skyline staff in a lively conversation about the challenges of balancing the demands of work, family, friends, community, personal interests, and, of course, self. She has worked with employees at numerous multinational corporations including Google, Yahoo, Microsoft, AT&T, and Wells Fargo. An expert in group facilitation, Habegger was selected by Stanford Business School to present on the topic of "Working in an International Market".
Write On! Classified Staff Retreat 2012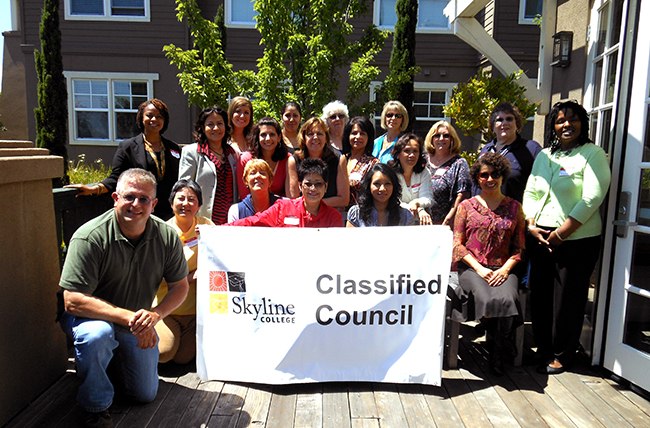 Write On! was the theme of the Skyline College Classified Staff retreat held July 19th at College Vista Clubhouse, and focused on the various types of business documents that are used by our classified staff from day to day. The first workshop, Business Etiquette 101, was presented by Marcia Hakanson of Claremont EAP. Ms. Hakanson gave a practical, fun-filled workshop on the dos and don'ts of business writing and etiquette. The second workshop, given by Skyline College Professor Alma Cervantes, focused on various business writing styles and "netiquette". It was very interesting to see the mistakes we tend to make when writing memos, letters or emails.