Wellness & Massage Therapy
The Field
Wellness is associated with holistic/integrative health that encompasses a variety of multi-disciplined therapies that is also inclusive with various global traditional healing systems. Many of these therapies fall under the scope of practice of a massage therapist.
Integrative health encompasses depth of education within various perspectives of knowledge that empowers people to improve their physical, mental and spiritual well-being.
To succeed in Massage Therapy and Wellness, students will need to demonstrate strong problem-solving skills to evaluate symptoms and determine the best treatment strategy. Interpersonal skills, empathy, compassion and curiosity about holistic/integrative health are also essential for success in the field.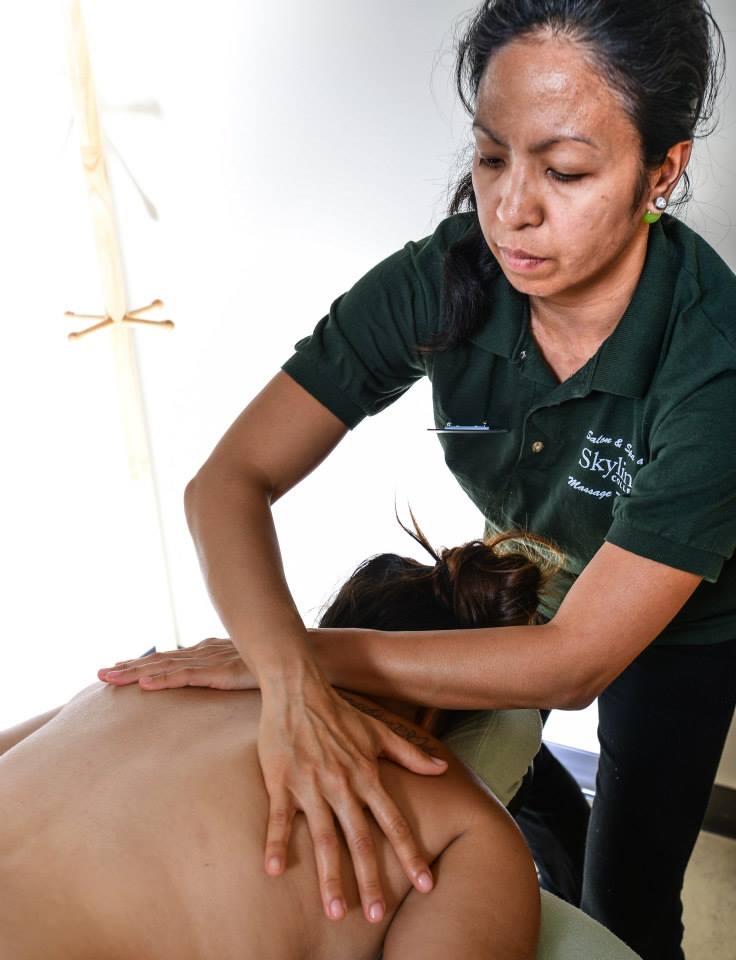 The Wellness/Massage Therapy Program at Skyline College
The College's Wellness program provides instruction needed to succeed in the field of holistic/integrative health. Learn the educational foundation and individualized implementation with practical hands-on training in order to gain tools that will prove to be a life changing and an informative journey of self-discovery to achieve balance for optimal health. This knowledge will enable depth of understanding, expand awareness and examine cultural heritage within a variety of traditional healing perspectives, empowering people to make more informed decisions regarding lifelong health, healing and wellness.
Our Massage Therapy Certificate is a 600-hour full time evening program that can be completed in two semesters. This interdisciplinary program is designed to provide students, the general population and professionals alike with well-rounded entry-level knowledge, skills, and academic depth necessary for massage therapy positions in a variety of settings. Various techniques within massage therapy include Swedish (relaxing/wellness), deep tissue, trigger point, myofascial release, neuromuscular therapy, PNF/MET, energy healing techniques, Ayurveda, Asian bodywork traditions and introducing other current massage and integrative health modalities. Students gain valuable knowledge and real-world experience in our spa, a state of the art facility, building both confidence and mastery.
Apply Online for the Wellness/Massage Therapy Program
Suggestions for CPR/AED Training
Many local agencies offer CPR/AED training quite frequently. Completion of EMC 425 is not the only way to fulfill the CPR requirement. Training can be taken at a local agency with a CPR card issued upon successful completion. Make sure that the CPR card is good for two years. Online training is not an accepted method for CPR training.
The following agencies are amongst others offering CPR training locally.
Skyline College Resources
Professional Organizations
Membership
| Name | Organization |
| --- | --- |
| Matthew Gee | San Francisco State University Mashouf Wellness Center |
| Kevin Giraldo | Owner-Corpo E Terra (Body and Earth in Latin) |
| Kelli Johnson | Zeel and Calistoga Spa and Hot Springs |
| Jenean Laroche | SenSpa |
| Don Miralles | Massage Envy |
| Carolyn Targue | UCSF Osher Center for Integrative Medicine |
Career Outlook
Massage therapists and wellness practitioners work in an array of settings, both private and public, such as private offices, hotels, spas, hospitals, fitness centers, and sports organizations. Some massage therapists also travel to clients' homes or offices to give a massage.
Demand for massage therapists is much higher than average, with a projected employment growth rate of 23% over the next decade according to the U.S. Department of Labor. In California, massage therapists make an average of $40,320 per year according to the Bureau of Labor Statistics.
Career Opportunities
Wellness career opportunities can be found at Spas, Wellness Centers, Sports Medicine Clinics, Orthopedic Offices, Naturopathic Practices, Entertainment Industry, Your Own Business, Yoga Retreat Centers, Cruise Ships, Integrative Medicine Centers, Acupuncture Offices, Hospitals, Physical Therapy Offices, Chiropractic Offices, Pain Management Clinics, Beauty Salons, Athletic Clubs, Nursing Homes, Resorts, and Medical Spas.