Find your niche in Natural Sciences
The natural sciences, including biology, chemistry, physics, and earth sciences, study the substances, processes and interactions of matter and energy.
The Natural Science Degree Program provides students with an opportunity to meet the prerequisites to continue preparation for careers in any of the natural sciences. Skyline College offers an Associate Degree in Natural Science specifically that can help you create a clear path for transfer to a four-year institution.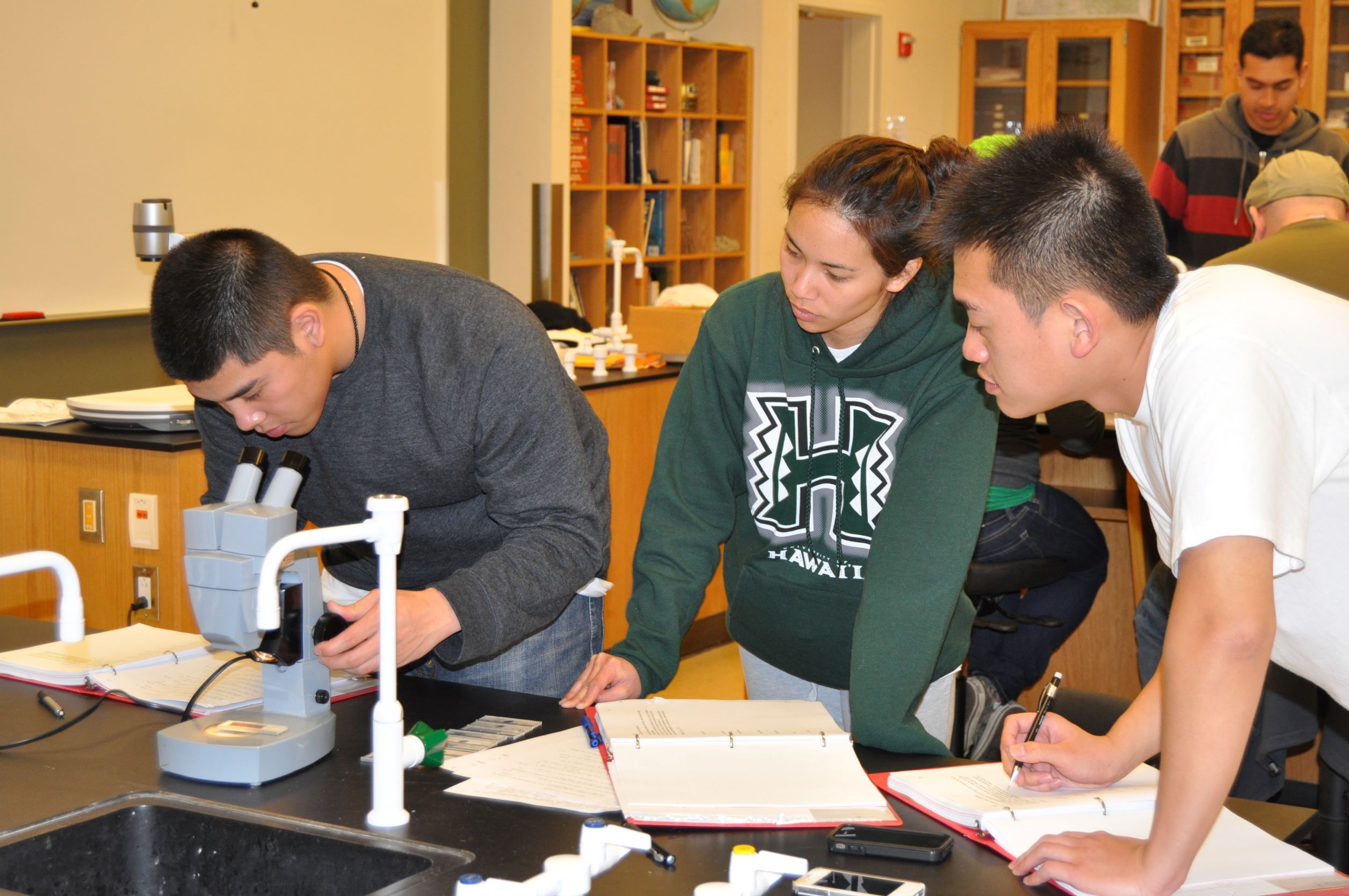 Type
Status
Title
Days
Time
Instructor
IN
PROGRESS
BIOL 101 - 97507 - Our Biological World
M W F
10:10am-11:00am
Song, M
IN
PROGRESS
BIOL 101 - 97507 - Our Biological World
W
1:10pm-4:00pm
Davis, K
IN
PROGRESS
BIOL 110 - 98173 - Principles Of Biology
TBA
Anttila, C
IN
PROGRESS
BIOL 110 - 98173 - Principles Of Biology
TBA
Anttila, C
IN
PROGRESS
BIOL 110 - 92818 - Principles Of Biology
T Th
1:10pm-2:25pm
Davis, K
IN
PROGRESS
BIOL 110 - 92818 - Principles Of Biology
T
3:00pm-6:00pm
Touneh, K
IN
PROGRESS
BIOL 110 - 97921 - Principles Of Biology
T Th
1:10pm-2:25pm
Davis, K
IN
PROGRESS
BIOL 110 - 97921 - Principles Of Biology
Th
3:00pm-6:00pm
Touneh, K
IN
PROGRESS
BIOL 110 - 97784 - Principles Of Biology
W
1:10pm-3:50pm
Bookstaff, S
IN
PROGRESS
BIOL 110 - 97784 - Principles Of Biology
TBA
Bookstaff, S
IN
PROGRESS
BIOL 110 - 80155 - Principles of Biology
TBA
Anttila, C
IN
PROGRESS
BIOL 110 - 80155 - Principles of Biology
TBA
Anttila, C
IN
PROGRESS
BIOL 110 - 80156 - Principles of Biology
TBA
Anttila, C
IN
PROGRESS
BIOL 110 - 80156 - Principles of Biology
TBA
Anttila, C
IN
PROGRESS
BIOL 110 - 80157 - Principles of Biology
T
1:10pm-3:50pm
Bookstaff, S
IN
PROGRESS
BIOL 110 - 80157 - Principles of Biology
TBA
Bookstaff, S
IN
PROGRESS
BIOL 130 - 94610 - Human Biology
TBA
Smiley, J
IN
PROGRESS
BIOL 130 - 97950 - Human Biology
T Th
9:35am-10:50am
Kanaaneh, J
IN
PROGRESS
BIOL 130 - 96680 - Human Biology-PSP
TBA
Smiley, J
IN
PROGRESS
BIOL 140 - 92368 - Animals, People & Environment
TBA
Bookstaff, S
IN
PROGRESS
BIOL 150 - 80163 - Intro to Marine Biology
TBA
Bookstaff, S
IN
PROGRESS
BIOL 215 - 96814 - Organismal Biology
M W F
12:10pm-1:00pm
Song, M
IN
PROGRESS
BIOL 215 - 96814 - Organismal Biology
M W
2:10pm-4:55pm
Song, M
IN
PROGRESS
BIOL 215 - 98118 - Organismal Biology
M W F
12:10pm-1:00pm
Song, M
IN
PROGRESS
BIOL 215 - 98118 - Organismal Biology
T Th
9:10am-11:45am
Song, M
IN
PROGRESS
BIOL 215 - 96744 - Organismal Biology-BCS
M W F
12:10pm-1:00pm
Song, M
IN
PROGRESS
BIOL 215 - 96744 - Organismal Biology-BCS
T Th
9:10am-11:45am
Song, M
IN
PROGRESS
BIOL 215 - 98117 - Organismal Biology-PSP
M W F
12:10pm-1:00pm
Song, M
IN
PROGRESS
BIOL 215 - 98117 - Organismal Biology-PSP
M W
2:10pm-4:55pm
Song, M
IN
PROGRESS
BIOL 230 - 97509 - Introduction to Cell Biology
T Th
11:10am-12:25pm
Guth, S
IN
PROGRESS
BIOL 230 - 97509 - Introduction to Cell Biology
T
1:10pm-6:30pm
Guth, S
IN
PROGRESS
BIOL 230 - 97509 - Introduction to Cell Biology
TBA 1 Hrs/Wk
Guth, S
IN
PROGRESS
BIOL 240 - 80165 - General Microbiology
M W
11:10am-12:30pm
Yuan, O
IN
PROGRESS
BIOL 240 - 80165 - General Microbiology
M W
9:10am-10:30am
Yuan, O
IN
PROGRESS
BIOL 240 - 80165 - General Microbiology
TBA 1 Hrs/Wk
Yuan, O
IN
PROGRESS
BIOL 240 - 84828 - General Microbiology
M W
11:10am-12:30pm
Yuan, O
IN
PROGRESS
BIOL 240 - 84828 - General Microbiology
M W
1:10pm-2:30pm
Yuan, O
IN
PROGRESS
BIOL 240 - 84828 - General Microbiology
TBA 1 Hrs/Wk
Yuan, O
IN
PROGRESS
BIOL 240 - 80166 - General Microbiology
M W
5:30pm-6:45pm
Guth, S
IN
PROGRESS
BIOL 240 - 80166 - General Microbiology
M W
3:15pm-4:30pm
Guth, S
IN
PROGRESS
BIOL 240 - 80166 - General Microbiology
TBA 1 Hrs/Wk
Guth, S
IN
PROGRESS
BIOL 240 - 84531 - General Microbiology
M W
5:30pm-6:45pm
Guth, S
IN
PROGRESS
BIOL 240 - 84531 - General Microbiology
M W
7:10pm-8:25pm
Guth, S
IN
PROGRESS
BIOL 240 - 84531 - General Microbiology
TBA 1 Hrs/Wk
Guth, S
IN
PROGRESS
BIOL 250 - 80167 - Human Anatomy
TBA
McDaniel, J
IN
PROGRESS
BIOL 250 - 80167 - Human Anatomy
TBA
McDaniel, J
IN
PROGRESS
BIOL 250 - 80168 - Human Anatomy
TBA
McDaniel, J
IN
PROGRESS
BIOL 250 - 80168 - Human Anatomy
TBA
McDaniel, J
IN
PROGRESS
BIOL 250 - 96586 - Human Anatomy
TBA
Aquino, Y
IN
PROGRESS
BIOL 250 - 96586 - Human Anatomy
TBA
Aquino, Y
IN
PROGRESS
BIOL 250 - 96587 - Human Anatomy
TBA
Karve, S
IN
PROGRESS
BIOL 250 - 96587 - Human Anatomy
TBA
Karve, S
IN
PROGRESS
BIOL 250 - 91701 - Human Anatomy
F
1:10pm-4:00pm
Smiley, J
IN
PROGRESS
BIOL 250 - 91701 - Human Anatomy
TBA
Smiley, J
IN
PROGRESS
BIOL 250 - 97357 - Human Anatomy
F
9:10am-12:15pm
Karve, S
IN
PROGRESS
BIOL 250 - 97357 - Human Anatomy
TBA
Aquino, Y
IN
PROGRESS
BIOL 250 - 97569 - Human Anatomy
W
9:10am-12:00pm
Aquino, Y
IN
PROGRESS
BIOL 250 - 97569 - Human Anatomy
TBA
Aquino, Y
IN
PROGRESS
BIOL 250 - 97992 - Human Anatomy
W
7:00pm-10:00pm
Smiley, J
IN
PROGRESS
BIOL 250 - 97992 - Human Anatomy
TBA
Smiley, J
IN
PROGRESS
BIOL 250 - 97269 - Human Anatomy - PSP
W
9:10am-12:00pm
Aquino, Y
IN
PROGRESS
BIOL 250 - 97269 - Human Anatomy - PSP
TBA
Aquino, Y
IN
PROGRESS
BIOL 260 - 97570 - Human Physiology
TBA
Aquino, Y
IN
PROGRESS
BIOL 260 - 97570 - Human Physiology
TBA
Aquino, Y
IN
PROGRESS
BIOL 260 - 97571 - Human Physiology
TBA
Aquino, Y
IN
PROGRESS
BIOL 260 - 97571 - Human Physiology
TBA
Aquino, Y
IN
PROGRESS
BIOL 260 - 97572 - Human Physiology
TBA
Karve, S
IN
PROGRESS
BIOL 260 - 97572 - Human Physiology
TBA
Karve, S
IN
PROGRESS
BIOL 260 - 97406 - Human Physiology
M W
2:10pm-5:00pm
Timpe, L
IN
PROGRESS
BIOL 260 - 97406 - Human Physiology
TBA
Karve, S
IN
PROGRESS
BIOL 260 - 97575 - Human Physiology
W
7:10pm-9:50pm
Kanaaneh, J
IN
PROGRESS
BIOL 260 - 97575 - Human Physiology
T Th
7:10pm-9:50pm
Kanaaneh, J
IN
PROGRESS
BIOL 310 - 96595 - Nutrition
TBA
Gerrish, H
IN
PROGRESS
BIOL 310 - 97577 - Nutrition
TBA
Gerrish, H
IN
PROGRESS
CHEM 114 - 98102 - Survey of Chem/Phys/UmojaASTEP
W
10:10am-11:30am
Wamba, K
IN
PROGRESS
CHEM 114 - 98102 - Survey of Chem/Phys/UmojaASTEP
W
11:40am-1:00pm
Wamba, K
IN
PROGRESS
CHEM 114 - 98102 - Survey of Chem/Phys/UmojaASTEP
F
10:10am-11:30am
Ghanma, M
IN
PROGRESS
CHEM 114 - 98102 - Survey of Chem/Phys/UmojaASTEP
F
11:40am-1:00pm
Ghanma, M
IN
PROGRESS
CHEM 114 - 94997 - Survey of Chemistry/Physics
W
10:10am-11:30am
Wamba, K
IN
PROGRESS
CHEM 114 - 94997 - Survey of Chemistry/Physics
W
11:40am-1:00pm
Wamba, K
IN
PROGRESS
CHEM 114 - 94997 - Survey of Chemistry/Physics
F
10:10am-11:30am
Ghanma, M
IN
PROGRESS
CHEM 114 - 94997 - Survey of Chemistry/Physics
F
11:40am-1:00pm
Ghanma, M
IN
PROGRESS
CHEM 192 - 80195 - Elementary Chemistry
M W
11:10am-12:30pm
LeBlanc, J
IN
PROGRESS
CHEM 192 - 80195 - Elementary Chemistry
W
1:10pm-4:00pm
LeBlanc, J
IN
PROGRESS
CHEM 210 - 95751 - General Chemistry I
M W
9:30am-10:50am
Bates, A
IN
PROGRESS
CHEM 210 - 95751 - General Chemistry I
M W
1:10pm-4:00pm
Bates, A
IN
PROGRESS
CHEM 210 - 95752 - General Chemistry I
M W
9:30am-10:50am
Bates, A
IN
PROGRESS
CHEM 210 - 95752 - General Chemistry I
T Th
1:10pm-4:00pm
Bates, A
IN
PROGRESS
CHEM 210 - 97589 - General Chemistry I
T Th
12:45pm-2:00pm
Schubert, S
IN
PROGRESS
CHEM 210 - 97589 - General Chemistry I
M W
9:10am-12:00pm
Schubert, S
IN
PROGRESS
CHEM 210 - 97590 - General Chemistry I
T Th
12:45pm-2:00pm
Schubert, S
IN
PROGRESS
CHEM 210 - 97590 - General Chemistry I
T Th
9:10am-12:00pm
Schubert, S
IN
PROGRESS
CHEM 220 - 97591 - General Chemistry II
M W F
9:10am-10:00am
Rivera Contreras, J
IN
PROGRESS
CHEM 220 - 97591 - General Chemistry II
T Th
9:10am-12:00pm
Rivera Contreras, J
IN
PROGRESS
CHEM 234 - 97594 - Organic Chemistry I
M W F
11:10am-12:00pm
Rivera Contreras, J
IN
PROGRESS
CHEM 235 - 98008 - Organic Chemistry II
Th
9:35am-10:50am
Bates, A
IN
PROGRESS
CHEM 235 - 98008 - Organic Chemistry II
TBA
Bates, A
IN
PROGRESS
CHEM 237 - 80203 - Organic Chemistry Lab I
M
1:10pm-6:40pm
Rivera Contreras, J
IN
PROGRESS
CHEM 238 - 91703 - Organic Chemistry Lab II
Th
1:10pm-6:35pm
Liu, K
IN
PROGRESS
CHEM 410 - 91704 - Chem For Health Sciences
T Th
11:10am-12:25pm
Liu, K
IN
PROGRESS
CHEM 410 - 91704 - Chem For Health Sciences
T
1:10pm-4:00pm
Liu, K
IN
PROGRESS
CHEM 410 - 92866 - Chem For Health Sciences
T
7:00pm-10:00pm
Mckay, P
IN
PROGRESS
CHEM 410 - 92866 - Chem For Health Sciences
W
7:00pm-10:00pm
Mckay, P
IN
PROGRESS
CHEM 410 - 97597 - Chem For Health Sciences
T
7:00pm-10:00pm
Mckay, P
IN
PROGRESS
CHEM 410 - 97597 - Chem For Health Sciences
Th
7:00pm-10:00pm
Mckay, P
IN
PROGRESS
COMP 122 - 97582 - Intro to Programming: Python
T Th
2:10pm-3:25pm
Momeni, K
IN
PROGRESS
COMP 250 - 97583 - Intro Object-Oriented Prog:C++
M W F
10:10am-11:00am
Katz, A
IN
PROGRESS
COMP 250 - 89291 - Intro Object-Oriented Prog:C++
M
6:10pm-9:00pm
Katz, A
IN
PROGRESS
COMP 250 - 95776 - Object-Oriented Prog:C++ - ETS
M W F
10:10am-11:00am
Katz, A
IN
PROGRESS
COMP 252 - 97585 - Data Structures: C++
T
6:10pm-9:00pm
Katz, A
IN
PROGRESS
COMP 256 - 97586 - Computer Arch. & Assembly Lang
T Th
11:10am-12:25pm
Katz, A
IN
PROGRESS
COMP 256 - 96621 - Computer Arch/AssemblyLang-ETS
T Th
11:10am-12:25pm
Katz, A
IN
PROGRESS
COMP 262 - 97001 - Discrete Mathematics for COMP
TBA
Williams, P
IN
PROGRESS
COMP 284 - 97587 - Intro-Object-Oriented Pgm:JAVA
M W
5:10pm-6:25pm
Hoffman, J
IN
PROGRESS
COMP 284 - 97587 - Intro-Object-Oriented Pgm:JAVA
W
6:35pm-9:20pm
Hoffman, J
IN
PROGRESS
COMP 284 - 97100 - Object-Oriented Pgm:JAVA-ETS
M W
5:10pm-6:25pm
Hoffman, J
IN
PROGRESS
COMP 284 - 97100 - Object-Oriented Pgm:JAVA-ETS
W
6:35pm-9:20pm
Hoffman, J
IN
PROGRESS
COMP 286 - 98071 - Data Structures II: Java
T Th
9:35am-10:50am
Katz, A
IN
PROGRESS
GEOL 106 - 95777 - Weather and Climate
TBA
Patel, N
IN
PROGRESS
GEOL 106 - 95777 - Weather and Climate
TBA
Patel, N
IN
PROGRESS
GEOL 210 - 98063 - General Geology
TBA
Danfoura, M
IN
PROGRESS
GEOL 210 - 98063 - General Geology
TBA
Danfoura, M
IN
PROGRESS
PHYS 100 - 98015 - Conceptual Physics
TBA
Kaur, G
IN
PROGRESS
PHYS 101 - 98022 - Conceptual Physics Lab
T
1:10pm-4:00pm
Lopez-Thibodeaux, M
IN
PROGRESS
PHYS 114 - 94998 - Survey of Chemistry & Physics
W
10:10am-11:30am
Wamba, K
IN
PROGRESS
PHYS 114 - 94998 - Survey of Chemistry & Physics
W
11:40am-1:00pm
Wamba, K
IN
PROGRESS
PHYS 114 - 94998 - Survey of Chemistry & Physics
F
10:10am-11:30am
Ghanma, M
IN
PROGRESS
PHYS 114 - 94998 - Survey of Chemistry & Physics
F
11:40am-1:00pm
Ghanma, M
IN
PROGRESS
PHYS 210 - 80697 - General Physics I
TBA
Yadak, P
IN
PROGRESS
PHYS 210 - 80697 - General Physics I
TBA
Yadak, P
IN
PROGRESS
PHYS 210 - 94916 - General Physics I
Th
1:10pm-4:00pm
Pevyhouse, A
IN
PROGRESS
PHYS 210 - 94916 - General Physics I
TBA
Pevyhouse, A
IN
PROGRESS
PHYS 210 - 91997 - General Physics I - BCS
Th
1:10pm-4:00pm
Pevyhouse, A
IN
PROGRESS
PHYS 210 - 91997 - General Physics I - BCS
TBA
Pevyhouse, A
IN
PROGRESS
PHYS 211 - 96974 - General Physics I-Calc Sup-BCS
TBA
Kaur, G
IN
PROGRESS
PHYS 211 - 86584 - General Physics I-Calculus Sup
TBA
Kaur, G
IN
PROGRESS
PHYS 220 - 97715 - General Physics II
T
1:10pm-3:50pm
Wamba, K
IN
PROGRESS
PHYS 220 - 97715 - General Physics II
TBA
Jazaeri, A
IN
PROGRESS
PHYS 220 - 92490 - General Physics II - BCS
T
1:10pm-3:50pm
Wamba, K
IN
PROGRESS
PHYS 220 - 92490 - General Physics II - BCS
Th
TBA
Jazaeri, A
IN
PROGRESS
PHYS 221 - 96976 - Gen Physics II Calc Sup - BCS
TBA
Pevyhouse, A
IN
PROGRESS
PHYS 221 - 91731 - Gen Physics II Calculus Sup
TBA
Pevyhouse, A
IN
PROGRESS
PHYS 250 - 96406 - Physics w Calculus I-ETS
W
1:10pm-3:50pm
Yadak, P
IN
PROGRESS
PHYS 250 - 96406 - Physics w Calculus I-ETS
TBA
Kaur, G
IN
PROGRESS
PHYS 250 - 95467 - Physics with Calculus I
W
1:10pm-3:50pm
Yadak, P
IN
PROGRESS
PHYS 250 - 95467 - Physics with Calculus I
TBA
Kaur, G
IN
PROGRESS
PHYS 250 - 80699 - Physics with Calculus I
W
4:10pm-6:50pm
Yadak, P
IN
PROGRESS
PHYS 250 - 80699 - Physics with Calculus I
TBA
Kaur, G
IN
PROGRESS
PHYS 250 - 96273 - Physics with Calculus I
W
4:10pm-6:50pm
Yadak, P
IN
PROGRESS
PHYS 250 - 96273 - Physics with Calculus I
TBA
Kaur, G
IN
PROGRESS
PHYS 260 - 96980 - Physics w Calc. II - ETS
M W F
9:10am-10:05am
Wamba, K
IN
PROGRESS
PHYS 260 - 96980 - Physics w Calc. II - ETS
M
4:10pm-7:00pm
Wamba, K
IN
PROGRESS
PHYS 260 - 96978 - Physics w Calculus II-ETS
M W F
9:10am-10:05am
Wamba, K
IN
PROGRESS
PHYS 260 - 96978 - Physics w Calculus II-ETS
M
1:10pm-4:00pm
Wamba, K
IN
PROGRESS
PHYS 260 - 96206 - Physics with Calculus II
M W F
9:10am-10:05am
Wamba, K
IN
PROGRESS
PHYS 260 - 96206 - Physics with Calculus II
M
1:10pm-4:00pm
Wamba, K
IN
PROGRESS
PHYS 260 - 96979 - Physics with Calculus II
M W F
9:10am-10:05am
Wamba, K
IN
PROGRESS
PHYS 260 - 96979 - Physics with Calculus II
M
4:10pm-7:00pm
Wamba, K
IN
PROGRESS
PHYS 270 - 96642 - Physics w Calculus III-ETS
W
1:10pm-2:00pm
Wehrfritz, M
IN
PROGRESS
PHYS 270 - 96642 - Physics w Calculus III-ETS
TBA
Hein, E
IN
PROGRESS
PHYS 270 - 96642 - Physics w Calculus III-ETS
TBA
Wehrfritz, M
IN
PROGRESS
PHYS 270 - 96643 - Physics w Calculus III-ETS
W
4:10pm-5:00pm
Wehrfritz, M
IN
PROGRESS
PHYS 270 - 96643 - Physics w Calculus III-ETS
TBA
Hein, E
IN
PROGRESS
PHYS 270 - 96643 - Physics w Calculus III-ETS
TBA
Wehrfritz, M
IN
PROGRESS
PHYS 270 - 80700 - Physics with Calc III
W
1:10pm-2:00pm
Wehrfritz, M
IN
PROGRESS
PHYS 270 - 80700 - Physics with Calc III
TBA
Hein, E
IN
PROGRESS
PHYS 270 - 80700 - Physics with Calc III
TBA
Wehrfritz, M
IN
PROGRESS
PHYS 270 - 95469 - Physics with Calculus III
W
4:10pm-5:00pm
Wehrfritz, M
IN
PROGRESS
PHYS 270 - 95469 - Physics with Calculus III
TBA
Hein, E
IN
PROGRESS
PHYS 270 - 95469 - Physics with Calculus III
TBA
Wehrfritz, M
IN
PROGRESS
PHYS 270 - 98027 - Physics with Calculus III-PSP
W
1:10pm-2:00pm
Wehrfritz, M
IN
PROGRESS
PHYS 270 - 98027 - Physics with Calculus III-PSP
TBA
Hein, E
IN
PROGRESS
PHYS 270 - 98027 - Physics with Calculus III-PSP
TBA
Wehrfritz, M
Primary Contact