Apply to Skyline College
Skyline College is here to empower you to achieve your educational goals.
Follow these five steps to enroll at Skyline College and get started on the next step toward your future!
All new students are required to complete steps 1-5. Former students may not have to complete steps 2, 3, and 4. For more information, contact the Counseling Department in Building 2. You can also download the Admissions Checklist to keep track of your progress as you complete the five steps below.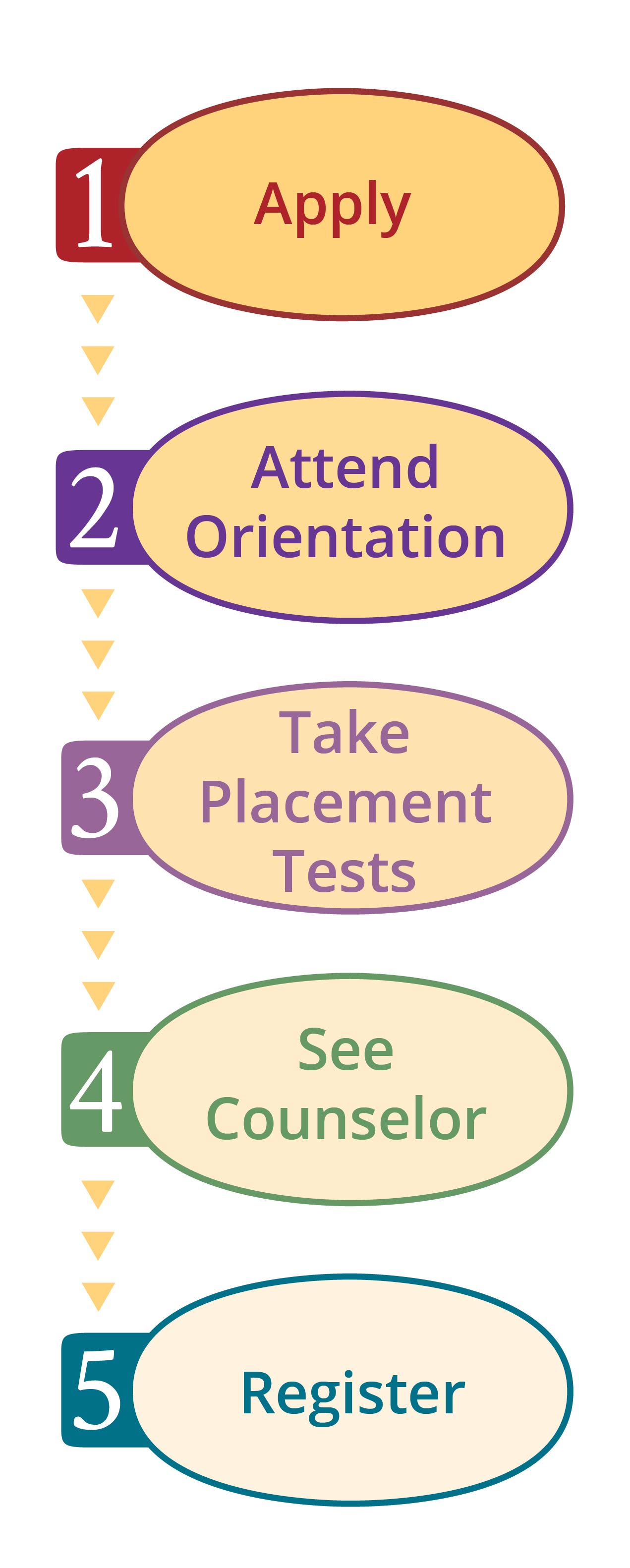 Follow these 5 Steps to Enrollment:
Once you create on OpenCCC account, you'll begin the application process where you'll be asked for your intended major and an educational goal, along with some basic personal, educational and residency information. After applying, you'll receive your Student ID Number (G-Number) via email.
Orientation, either online or in-person, will provide you with the information, resources, and tools you need to be successful at Skyline College. We offer an Online Orientation for students who cannot come to campus, although we highly recommend you schedule an in-person Orientation through our counseling office located in Building 2.
English, English for Speakers of Other Languages (ESOL) and math placement tests are a way to help you enter college at the right level. They assess your math, reading and writing skills and your counselor will use this information to help you choose the right math and English classes.
Counselors are here to help you navigate your educational experience and reach your goals. When you meet with a counselor you'll discuss your placement results, select the courses that are right for you and create a thorough educational plan to help you map out your academic experience.
Step 5: Register for Classes
Once you've completed steps 1-4, you'll be issued your registration date. Please note that you will only be able to register for classes on or after your registration date. Visit WebSMART to register for classes, pay fees, view grades, access your student email and purchase a parking permit.
__________________________________________________________________________________
Admissions Office Hours:
The admissions office is located in Building 2 and is open at the following times:
Monday - Thursday: 8:00am - 6:30pm
Friday: Closed
Already enrolled at Skyline College?
Register for classes using WebSMART. Remember, fees are due and payable at the time of registration.
Programs with Special Application Requirements
Some programs have special admissions requirements in addition to the general admission requirements set by Skyline College. If you are interested in one of the programs below, make sure you understand and follow their special application requirements.