Solar and Building Science Learning Center
Capacity: 50
The Solar & Building Science Learning Center is a custom-built facility designed to provide "hands-on" technical training for Solar Technology and Building Science. The Center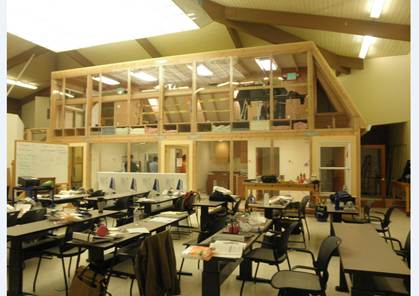 includes:
Solar Electronics Lab/Workshop

Residential House Model

Insulation Lab

Full-Size Classroom
The Residential House Model is one of just a handful in the Bay Area and features all the basic elements of a home like lighting, insulation, HVAC (heating, ventilation, air conditioning) system, appliances, attic and crawl spaces. It is used to teach students best practices for assessing and retrofitting buildings.
The Insulation Lab provides "hands-on" training for a multitude of insulation applications such as blown-in, dense-pack, wet/damp spray, and drill and-fill. An Intec Force II insulation machine is used for training as it is one of the most common, professional-grade machines used in the industry.
For more information, please visit the Energy Systems Technology Management page.In the Solar Lab/Workshop, students have the opportunity to design and build a complete solar system, as well as to test the electronic and mechanical components. The emphasis is on real-world application of exciting and emerging technology solutions in an important part of the renewable energy portfolio.
The Solar & Building Science Learning Center is located in Pacific Heights, Building 19, Room 129.