Schedule and Workshops
2018 Schedule
9:00 - 9:30am
General Assembly: "Shooting for the Stars: The Secrets to be a STEM Woman Warrior"
Dr. Rita Ng, Chief of Cardiology, Kaiser Permanente East Bay; Miss California 2000
9:40 - 11:00am
Workshop 1 (Choose from selections below)
11:10 - 12:30pm
Workshop 2 (Choose from selections below)
12:40 - 1:15pm
Lunch
1:25 - 2:45pm
Workshop 3 (Choose from selections below)
2:50 - 3:00pm
General Assembly II (Contest prizes)

Download the complete EYH Program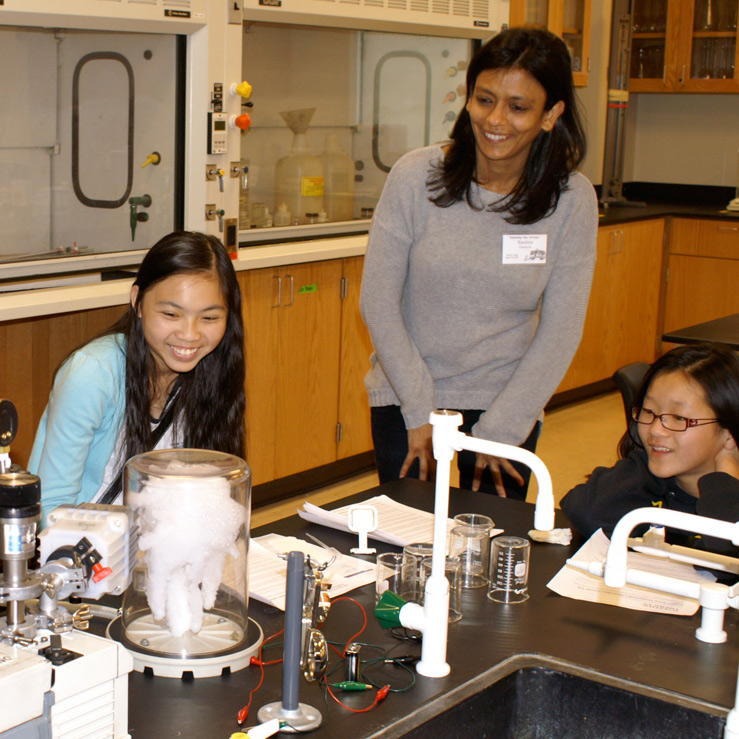 Workshops
1. C.S.I. San Bruno: Murder in the produce aisle. Interview and fingerprint the suspect, then analyze DNA to solve the crime. Michelle Huang, Yuele (Nora) Zhang, Nhu Trang, David Jeremiah Lokotui, Patrick Perez, Maria Ortiz, Hazel Leiva, Alejandro Guzman, Alyssa Marquina, Marjorie Viernes, Brianna Liang, Christine Abella, Josh Paras, Myo Myo Khwazin, & Kanchan Shrestha. Skyline College Phi Theta Kappa.
2. Environmental Detectives. The "crime" is a mysterious environmental calamity - a fish die-off that began five years ago. Student sleuths attempt to figure out the culprit through experiments and data collection. Jennifer Runyan & Katie Thomas. Lawrence Hall of Science, UC Berkeley.
3. Exploring Tidepool Ecology. Come meet real marine scientists to learn about tidepool ecology and interact with live animals. Jodi Stewart. Marine Science Institute.
4. F.B.I. + Soil = Equation for an Organic Future. Investigate Fungi, Bacteria and Invertebrates and discover the biology and chemistry behind the soil food web. Construct your own factory of organic soil and hire the happiest and most productive workers! Kelly Torikai & colleagues. San Mateo County Office of Sustainability.
5. From Cell to Milk, from Milk to Cheese. Wonder where milk comes from? How does the amazing body of a mother nurture its young? What's in the milk? How does milk turn into cheese? Come to this workshop and you will have the answers. You will learn about cells, proteins, and beyond! Sheil Kee. Genentech.
6. Let's Get Dirty! Get dirty with the Skyline Environmental Club! Composting benefits the environment and your wallet. Join us in building your own compost bin! Keilan Wiitala & colleagues. Skyline College Environmental Club.
7. What's in Your Drinking Water? What makes your drinking water taste? What makes it safe? Look for living creatures in your water and build a working water filtration system. Martha Marquez Ramirez, Amada Jibaja Prado, Tami Whelen, Dena Zych,Natasha Surya,Irma Calixto, & Cassandra Gutierrez.Skyline College Biology.
8. Locomotion in the Ocean —Squid Races. Come learn about marine animals and the different strategies they use to swim through the ocean! Inspired by a hands-on jumbo squid dissection, we will build a balloon squid to understand the physics of their movement and race them to find out which ones go faster. Diana Li. Stanford University's Hopkins Marine Station.
9. Marvelous Microbiology! Did you know you interact with invisible microbes every day? We will discover microbes in food production, in nature, in our bodies, and in making goods. We will make root beer, look at bacteria, fungi, and protozoa through a microscope, and even perform biochemical tests that are done in real labs! Aye Thwin, Siena Calderon, Sarah Noelle Rosario, Rena Aiken, Elizabeth Castro, & Danielle Vivion. Skyline College Microbiology.
10. By The Sea —Natural Wonders of the the Skyline College area. Skyline College sits where two large tectonic plates meet. Our environment is ruled by the forces of the Earth's crust moving and merging. Come learn about the biotic and abiotic forces around us. Carina Anttila-Suarez. Skyline College Biology.
11. San Francisco ZooMobile! Meet five animal ambassadors from the San Francisco Zoo and a member of the Zoo staff to discuss how we can help animals and habitats far and wide. Blair Bazdarich. San Francisco Zoo.
12. Scrambled Eggs with a Side of Flu Vaccine. At Skyline Vaccines Inc., participants will develop and produce a mock-up of a putative flu vaccine. Nick Kapp. Skyline College Biotechnology.
13. The Greatest Balancing Act...Our Earth's Climate. How the increase of carbon dioxide in our atmosphere affects the air, the land, the sea, and us. Donna Phillips & colleagues. Aquarium of the Bay.
14. What's In That Water? This workshop focuses on viewing microorganisms in water samples using various microscope techniques. We will view living organisms and create slides using stains. Janelle Barbier. Skyline College Microbiology.
15. Play the Game of Life. Learn about environmental issues and sustainability. Discover both personal and professional opportunities to address them! Mary Thomasmeyer. Skyline College Sustainability Coordinator.
16. Brain Exploration! Get connected to your brain through multiple hands-on activities and crafts. Isabelle Lehoux, Stephanie Shriver, & Inna Zilberleyb. Genentech.
17. CPR—How to make someone undead! ECG–Take a selfie of your heart rhythm! Tour an Ambulance. Learn how to do basic CPR on a mannequin, get hooked-up to an ECG monitor and see your heart in action, listen to your friend's lung breathing, and tour an ambulance from the inside. Judith Crawford. Skyline College Emergency Medical Care.
18. Finding patient zero! How do epidemics like the Ebola outbreak occur? Find out how disease is transmitted and track an epidemic. Be ready to spread glowing hands! Elsa Jimenez-Samayoa. Skyline College Biology.
19. Neurology Basics: From the Classroom to the Exam Room. Learn about the structure and function of the nervous system and brain while exploring the basics of a neurological exam and assessing your own senses, reflexes, coordination, and strength. Lillian Sturmer. Stanford University.
20. RCPs Help You Breathe! What's your super power? Explore the field of Respiratory Care in a fun and friendly environment. Discover what cigarette smoking really does to your lungs and learn how to battle lung disease such as asthma with future Respiratory Care Practitioners. Allison Mctiernan and colleagues. Skyline College Respiratory Care Club.
21. Scrub-in for Surgery. Students will learn to dress in the surgeon's gown and gloves. Then, enter our Operating Room to see and touch the tools and equipment. Alice Erskine & Mary McKay. Skyline College Surgical Technology.
22. Sports Medicine: From the Field to the Operating Room. Students will learn the basics of Sports Medicine, specifically in the field of Athletic Training and Physical Therapy. Lindsy Donnelly. Stanford University.
23. The Ridonculus Homunculus. Your brain thinks your body has a huge head and hands, and tiny feet. Ridonculus! Learn more and draw your own brain's body map. Emily Dilger. California Academy of Sciences.
25. Mathmania 2.0. Come discover the cool side of math in this hands-on workshop that will leave you amazed! Dalila Gonzalez Mejia & colleagues. Cañada College STEM Center.
26. Beyond the Hour of Code with CodeHS. Write your first line of code or build your own Virtual Reality world in this hands-on workshop with CodeHS. Claire Sindlinger & Meg Davis. CodeHS.
27. Da Vinci Code. The weather person uses probability to predict when it will rain. public health workers use probability to warn a high-risk population about the danger of contracting a disease, and investors look at the probability that an investment will earn money. Participants will learn the difference between probability and possibility. Shelvana Cai, Moe Eaidra, & Weidian Kuang. Skyline College Phi Theta Kappa.
28. Let Me Tell You a Secret. Girls build cipher wheels and scytales to encode and decode secret messages. It is a very simple and interesting activity and lots of fun. Madhuri Kode. Rambus, Inc.
29. Love at First Byte. Write a computer program in BASIC! Debug (fix) an adventure game program. Write a story with a Madlibs program. Play and modify other games on the computer. Adrienne Jardetzky. Retired Software Director.
30. Math Problem Solving Skills. Math is the basis for all STEM careers. Being able to solve problems will make your science classes a breeze and prepare you for for a career solving the world's toughest problems. Join us as we attempt to solve problems that we don't know how to solve! Vida John. Silicon Valley Independent Learners.
31. Puzzling with Squares, Cubes, & a Few Other Shapes. Explore puzzles, including ones that involve folding paper, creating 3D shapes, discovering patterns, and dividing muffins evenly. Nancy Blachman. Julia Robinson Mathematics Festival.
32. Build a Harmless Can Holder. Have you heard of the Pacific gyre? Let's build harmless can holders to eliminate plastic! Ceal Craig. University of Phoenix.
33. Build Your Own Microscope. We will build a digital microscope using a cell phone and use it to make observations of slides that we will prepare together. Continue your scientific exploration when you take your microscope home! Bardo Castro Esparza & colleagues. UC Davis.
34. Exploring the Earth Where You Live. Learn about the Earth in your own backyard. Investigate geologic hazards and environmental issues and learn how to prepare for them. Carla Grandy. Skyline College Earth Sciences.
35. Girls on the Mic! Explore careers in the music industry! Learn to record music and produce music, create sound for video, and set up sound for a live concert. Come ready to make some noise at Girls on the Mic! Kelley Coyne. Women's Audio Mission.
36. Grid Games. Learn how to follow electricity through a maze of challenges to build human circuits, harness the power of the sun, and learn about our modern electrical grid. You'll leave knowing how you can reduce your energy footprint. Rachael Van Schoik. The Energy Coalition.
37. Grow and Glow. Design your own terrarium and learn to build a simple circuit to light up your miniature world. Susan Wu & Jaimelynn Alvarez. Skyline College Biology.
38. How Stuff Breaks: Failure of Engineering Materials. Come break stuff with us! Real engineering materials sometimes fail. Learn how material structure and properties help make materials durable and resistant to failure. Heather Jackson. Structural Integrity Associates, Inc.
39. In Space, They Can't Hear You Scream! See ice, water, and steam at one time. Coat a penny with gold. Figure out what happens to water, light, and sound when there is no air. Watch a marshmallow Peep blow up. These hands-on experiments promise noise…and fun. Janice (dr J) Mcomber and colleagues. Education Committee, Northern California Chapter, American Vacuum Society.
40. Let There Be Light! Light is all around you, but how much do you really know about how light is created? You probably are in the dark about the language used to describe light and laser optics. What happens when you turn on a lamp or a flashlight? How are these things powered and how do they actually work? Liji Gopalakrishnan. Rambus, Inc.
41. Light Up Your World With The Art and Engineering of Paper Circuits. Discover applications of electronics and engineering by making your own circuit powered LED light up card! Maryam Khan. Skyline College Engineering.
42. Make Your Own Sticker. Make a custom sticker that you design, and print it to bring home! Ed Loeswick. Bayside Academy.
43. Particle Detectives. Step into the shoes of a particle physicist and track down elementary particles in a multilayer detector. Emilie Hein. Skyline College Physics.
44. Rev It Up! Careers in the Automotive Industry. There's more to automotive than just turning a wrench. Learn about exciting careers in the automotive industry. Hands-on activity in the shop with real cars! Julia Johnson. Skyline College Automotive.
45. Think Like A Designer - How to make ideas real! Have you ever wondered how things are made? Buildings, cars, phones or shoes? Join this hands on workshop to see what it takes to bring an idea from your mind to design and make. Sarah O'rourke. Autodesk.
46. A Cabbage Can Tell You the Lemon is Sour! Come see what else cabbage is going to tell you. Jing Folsom. Skyline College Biology.
47. Chemistry Magic Show! Learn the secrets behind the world's most famous magic tricks. Safiyyah Forbes. Skyline College Chemistry.
48. Covergirl Chemist. This workshop will focus on the science of cosmetic products. Participants will make lip balm and bath bombs and focus on the chemical reactions that occur and the importance of each ingredient. Katelyn Kukar & colleagues. University of SF Women in Science.
49. Flubber and Silly Putty. Have you ever wondered how fun toys like Silly Putty, Gak, and Slime are made? It's the properties of polymers. These large molecules are bouncy, slimy, stretchy—and just plain fun. Experience the excitement and fun of chemistry in this workshop. Diala Mudawar, Anna Mora, Anthony Petraki, Lubna Tanatrah, Amr Shomali, Vallerie Bonito, Jasmine Heinig, Alina Krichuk, Shalom Guiterrez, & Jasmine Truong, Skyline College Phi Theta Kappa.
50. The Scientist in the Kitchen: Molecular Gastronomy. Explore the physical and chemical changes that occur while cooking. Participants will conduct the culinary process of spherification: shaping liquids into spherical treats! Thanh Nguyen, Thao Phan, Erica Bueso, Lubna Tanahtra, Thet Nyein, Kyle Reynolds, & Quyen Nguyen. Skyline College Phi That Kappa.
51. A Day in the Life of a College Student. Janah May Oclaman, Alma Gomez, Natasha Kristie , Melanie Miller, Sachin Sharma, Sweta Sharma, & Irene Yim. UC Davis.
52. Dream It, Be It. Rising Above Obstacles –addresses adversity women of all ages face in career advancement; session introduces participants to specific barriers that many women face, and provides participants with strategies to combat them. Kim Gillette & Kelly Anne Bohm. Soroptimist International North San Mateo County.
53. It's All About the Uniqueness of You! Come learn how your personality makes you special and different! We all view things differently, come learn how you see things! Gwendolyn Barnhart. Antioch University Seattle.
54. Teens, Nutrition, Health and Fitness! Understand the value of healthy eating and healthy activity habits that last all through out your life. Fun exercises included! Laura Conrad. MyShapers.com.
55. The 10-Minute Tech Career. Try out a few different careers in the technology industry for 10 minutes each, and learn how to explore more careers. Samantha Quist. Lighthouse.
56. The Mystery Box Challenge! Pick a STEAM challenge card, a toolbox filled with all sorts of mystery materials, and put your innovation skills to the test! Leah Henry. Children's Creativity Museum.
57. College 101: An Exploration of College Programs, Processes, and Resources. New to Skyline College? Join us and learn about Skyline College Programs, student resources and student services on campus, along with the nuts and bolts of becoming a college student: registration, placement tests, and financial aid. Lauren Ford. Skyline College Student Services.
58. Get Schooled on Financial Aid with Skyline College's Financial Aid Team. Financial Aid 101- Covering the who, what, where, when and why of financial aid. Madison Steele. Skyline College Financial Aid.
59. Get Your Money Right. Learn life skills about compound interest, savings and budgeting. You will also have the opportunity to meet and form personal contacts with women working in traditional and non-traditional STEM occupations as Financial Coaches. Valerie Higgins. Skyline College SparkPoint.