Schedule and Workshops
2019 Schedule
9:00 - 9:30am
General Assembly: "Reach for the Sky"
Zoe Zappitell
Project Manager, Zynga
9:40 - 11:00am
Workshop 1 (Choose from selections below)
11:10 - 12:30pm
Workshop 2 (Choose from selections below)
12:40 - 1:15pm
Lunch
1:25 - 2:45pm
Workshop 3 (Choose from selections below)
2:50 - 3:00pm
General Assembly II (Contest prizes)

Download the complete EYH Program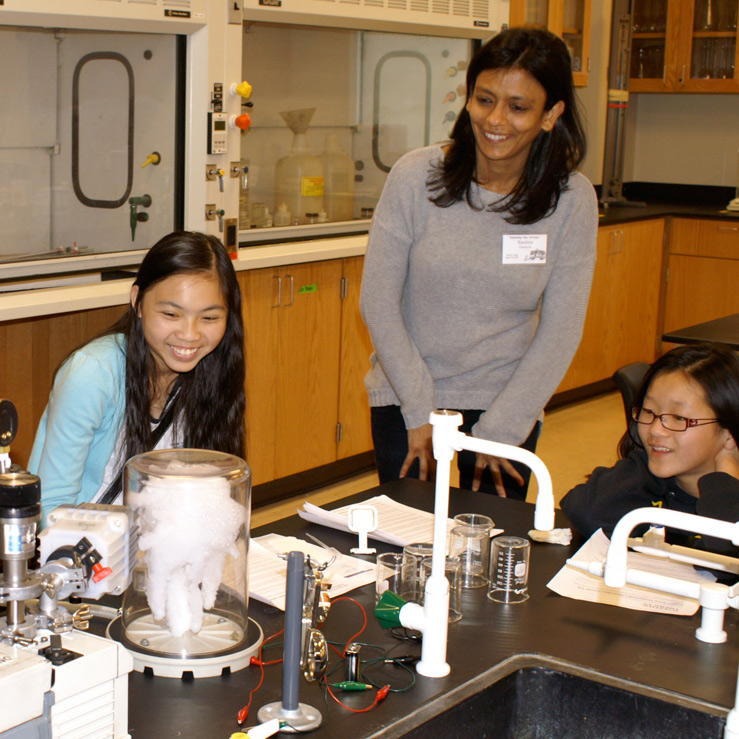 Workshops
1. F.B.I. + Science = Soil for an Organic Future. Use lab techniques and microscopes to investigate fungi, bacteria, and invertebrates (FBI) and discover the chemistry and biology of the soil food web. Populate organic soil with beneficial microbes and plant seeds to nurture into healthy plants at home. Kelly Torikai & Nancy Kruberg. San Mateo County Office of Sustainability.
2. Build Your Own Microscope. Build a digital microscope using a cell phone and use it to make observations of sample slides that we will prepare together. Continue your scientific exploration when you take your microscope home! Bardo Castro, Pam Rios, & Rebecca Belloso. UC Davis. Stanford University.
3. From Cell to Milk, From Milk to Cheese. Wonder where milk comes from? How does the amazing body of a mother nurture its young? What's in the milk? How does milk turn into cheese? Come to this workshop and you will have the answers. You will learn about cells, proteins, and beyond! Sheil Kee & Vasudha Srivastava. Genentech.
4. Echotronic. Have you ever wondered how a bat can navigate in complete darkness? Join us to find out, and in the process, learn about and get hands-on with circuit boards and coding! Daria Genzel-Wehrfritz & Marco Wehrfritz. UCB.
5. TREEmendous Careers in Forestry and Natural Resources. Learn about careers in forestry and natural resources, and practice hands-on forestry data collection and analysis. Diane Dealey Neill. Forestry Educators Incorporated.
6. San Francisco ZooMobile: Shifting the Balance. Explore the largest threats to animals and their habitats nearby and abroad, along with what each of us can do, individually and together, to restore nature's balance on our planet. Blair Bazdarich & Anna Stewart. San Francisco Zoo and Gardens.
7. Marine Science Institute. Become a marine scientist for the day! Explore the rocky intertidal by identifying key components of the habitat and touching live animals. Alexandra Lee. Marine Science Institute.
8. C.S.I. San Bruno: Murder in the produce aisle. Interview and fingerprint the suspect, then analyze DNA to solve the crime. Sophie Chrestella Huang, Michelle Huang, Yuele Zhang, Xiao xin li, Qijia Zhang, Liu Zhang, Marjorie Viernes, Brianna Liang, Myo Myo, Sienny Angky, Michael Wong, Karen Natania, Sin Hnine, & Aihong Yin. Skyline College Phi Theta Kappa Honor Society.
9. Marvelous Microbiology! Microbes are all around us! Enjoy exploring the different microbes used in food production, and learn about microbes found in the human body and its surroundings. We will make root beer, observe "little things" under the microscope, and perform biochemical tests. Susan Wu, Jaimelynn Alvarez, Christian Galang, Jennifer Huang, & Dipo Toriola. Skyline College Biology.
10. Maps in the Brain. Your cortex has a "map" of your body based on how many sensory nerves are in an area, rather than how large that area is - huge hands and tiny legs. Learn more and draw your brain's map! Emily Dilger. California Academy of Sciences.
11. Foldscope Micro-Scavenger Hunt. Build their own foldscope and use it to identify a variety of prepared slides. hone their micro-adventurer skills in a microorganism scavenger hunt and microbe bingo. Nick Kapp & Angel-Rose Villegas. Skyline College Science and Research Club.
12. Dirty Business - the Secrets of Snake Venom. Snake venom is complex mixture of enzymes, peptides, and proteins with specific chemical and biological activities that can also be used to treat diseases. Anthony Tu. Colorado State University.
13. What's in Your Drinking Water? What makes your drinking water taste? What makes it safe? Look for living creatures in your water and build a working water filtration system. Katie Krenn, Tu Nguyen, Megan Khoo, and Alex Mazzora. Skyline College Biology.
14. Sports Medicine: From the Field to the Operating Room. Students will be introduced to the different careers in Sports Medicine, with focus on Athletic Training and Physical Therapy. This session is 90% hands on. Lindsy Donnelly. Stanford University.
15. The Nose Knows. Or Does It. This workshop will examine how our senses work and how they can trick us into thinking we are experiencing something we really aren't. Jennifer Merrill. Skyline College Psychology.
16. Scrub-in for Surgery. Scrub in and join us behind the double doors of the OR. Dressed like a surgeon, you can handle the instruments and supplies actually used on patients. Learn how you could be a part of the team in only one year. Alice Erskine & Mary McKay. Skyline College Surgical Technology.
17. Respiratory Care Program. Respiratory Care Basics. Redmond Lopez & Lilylor Rotairo. Skyline Respiratory Care.
18. Human trait scavenger hunt! Why don't you like certain foods? Do your taste buds work differently than others? Come to our workshop to learn more about yourself. Jing Folsom. Skyline College Biology.
19. Finding patient zero! How do epidemics and pandemics occur? Find out how diseases are transmitted and track an epidemic. Be ready for your hands to glow! Elsa Jimenez-Samayoa. Skyline College. Biology.
20. The Heart: How does it work? Dissect a heart showing its parts and how these intricate parts work together to pump blood. Yancy Aquino & Jasmine M. Doctor. Skyline College Biology.
20A. Brain Teasers. The Human brain is a highly adaptable system. Train your brain to re-learn a common activity while in an altered state. Patrice Geraghty. Science for Scientists.
21. The Real CSI of San Mateo County. Two Criminalists from the San Mateo County Sheriff's Office Forensic Lab will teach about the crime lab and our role in Crime Scene Investigation. Learn how to test stains to see if it's blood and how to lift and compare fingerprints. Sally Gustavson & Cindy Anzalone. San Mateo County Sheriff's Office Forensic Lab.
22. Nanoscience: Small but Mighty! Learn about various types of nanoscience and nanotechnology that is going on at Stanford, as well as do a hands-on experiment that you can take home! Angela Hwang. Stanford University.
23. Chemistry Magic Show. Learn the secrets behind the world's most famous magic tricks. Safiyyah Forbes & Nancy Ruiz. Skyline College Chemistry.
24. Particle Detectives. Step into the shoes of a particle physicist and track down elementary particles. Emilie Hein. Skyline College/CCSF Physics.
25. The Scientist in the Kitchen: Molecular Gastronomy. Explore the physical and chemical changes that occur while cooking. Participants will conduct the culinary process of spherification: shaping liquids into spherical treats! Thanh Nguyen, Long Cao, Hazel Leiva, Ijeoma Okwuosa, Abiodun Foresythe. Skyline College Phi Theta Kappa Honor Society.
26. Covergirl Chemist. Find out the science behind creating lip balm and bath bombs then take try it yourselves! Mariah O'Grady & Jasleen Bassi. University of San Francisco.
27. Experiments in Space – Where No One Can Hear You Scream. Hands-on experiments that promise noise and fun. What happens to every day objects like balloons, marshmallows, sound, and light when there is no air? Kathryn Arnold. Northern Chapter of AVS.
28. Mapping Coastal Habitats: Hydrology, Geology, Biology. . Oh My! Discover how scientists use data to map sensitive habitats and protect California's coastal resources. Lauren Garske-Garcia & Esther Essoudry. California Coastal Commission.
29. Light Up Your World (The Art and Engineering of Paper Circuits). Discover applications of electronics and engineering while designing your very own circuit powered LED light up card!. Maryam Khan & Christal Nevarez. Skyline College Engineering.
30. Use the Sun to Charge Your Phone! Explore solar science through hands-on design and build a solar USB phone charger. Jessica Redden. Strategic Energy Innovations.
31. Girls On the Mic! Presented by Women's Audio Mission. Do you like music and technology? Learn all the diffferent careers in audio engineering such as recording engineer, beat making, live sound for concerts, DJing, and more! Adria Otte. Women's Audio Mission.
32. Color Changing Potion. Let's create colors! Come join us and learn the science behind the magic of color-changing potions. Thiri Htun, Choon Loo, & Zin Mar Aung. Skyline College Chemistry.
33. Abracadabra! Where Is the Water? Demonstrate water absorbancy of super waterlock polymers and investigate their formation reaction. Kelley Liu. Skyline College Chemistry.
34. Cool Chromatography! What's in Kool-Aid? Learn how to use chromatograpy to see and separate the different dyes in colored drinks. Martha Marquez Ramirez. UC Berkeley.
35. Love at First Byte. Write a computer program in BASIC! Write a story with a Madlibs program. Debug (fix) an adventure game program. Play and modify other games on the computer. Adrienne Jardetzky.
36. Let me tell you a secret. Build cipher wheels and scytales to encode and decode secret messages. It is a very simple and interesting activity and lots of fun. Madhuri Kode. Rambus Inc.
37. Exploring the Mandlebrot Set. Learn a little bit about complex numbers and explore the beauty and wonder that is the Mandlebrot Set. Contest to find the most interesting/beautiful region! Rick Hough. Skyine College Mathematics.
38. Mystery Box Innovation Challenge! Using only scissors, tape, and recycled materials, what can you build? Explore innovation and art with the Mystery Box Challenge! Leah Henry. Children's Creativity Museum.
39. Let's talk about it: Research by and for Girls of Color. This workshop will go into what scientific research provides us with as a tool for knowledge production, how communities of color have contributed and continue to contribute, and what the future holds for soon-to-be STEM femme researchers of color! Ifechukwu Okeke & Andrea Ramirez. Underrepresented Researchers of Color.
40. Dream It Be It - Overcoming Obstacles in Life. Interact with your peers to help develop plans and ideas to overcome obstacles you currently face, or may soon face, in life. Sylvia Chu & Kelly Bohm. Soroptimist International - North San Mateo County.
41. How to find your place in STEM, This workshop will focus on how to find diffrenent interest in STEM and how to find opportunities for STEM careers without a degree. Veronika Brown. California Academy of Sciences.
42. A Day in the Life of a College Student. Janah May Oclaman, Sachin Sharma, Stephanie Meza, Sweta Sharma, & Diala Mudawar. UC Davis.
43. Going Out on a Limb - Finding the Right STEM Path for You in College and Beyond. How to discover your interests, untangle different major choices, and get accepted to the best college program for you. Monica Gallego Rude. Gomundo.
44. Teens, Nutrition, Health and Fitness. Learn positive healthy eating and activity habits that will stick with you for life! Laura Conrad, MyShapers, LLC.
A1. Financial Aid 101. Receive more information on ways to help pay for college, scholarship opportunities, and requirements and steps to applying for financial aid. Jeremy Evangelista-Ramos & Eric Torres. Skyline College Financial Aid.
A2. College 101: Prepare, Get Accepted, and Thrive in STEM. Learn how to discover STEM interests, untangle different STEM majors, and get accepted to the best college program to match those interests. Monica Gallego Rude. Gomundo.
A3. 529--The Tax Free Way to Pay for College. At an average inflation rate of 5% for college tuitions, a $35,000 tuition today will be almost $45,000 in just five years. As we try to save, the goalposts keep moving farther away. With a combination of deferred (or no) taxes, compounding interest, and thoughtful planning, some of the luster can be reapplied to the future. Willard Folsom & James Luippold. Castle Rock Wealth Management.