Supplemental Instruction
Supplemental Instruction (SI) is an academic assistance program designed to help students succeed in traditionally difficult courses through voluntary group study sessions. Sessions are facilitated by SI Leaders, who are peers who have already successfully completed the targeted course.
How does Supplemental Instruction work?
SI Leaders attend class meetings, and based on surveys conducted at the beginning of the semester, make themselves available 1-3 times per week, depending on student need, for active and collaborative study sessions. Most SI sessions take place either right before or after class, but meeting times are flexible in order to try to accommodate as many students as possible.
During a typical session, students engage in collaborative learning, compare and clarify lecture notes, review textbook readings, and discuss key course concepts. SI Leaders help students develop effective study strategies for the course; they do not lecture or replicate the work of faculty.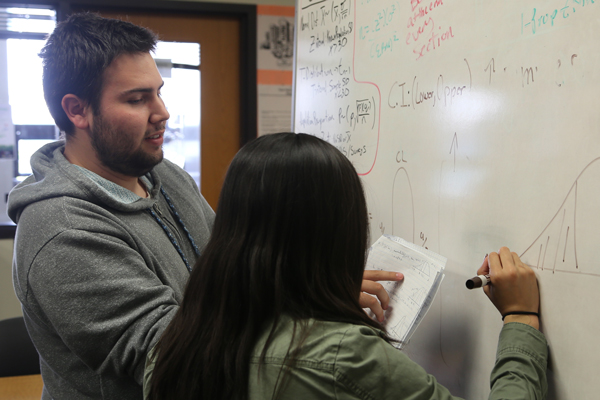 Look for the "SI" icon listed next to applicable classes on WebSCHEDULE to register for classes in which SI support is available. Supplemental Instruction is open to all students enrolled in the class and is completely free. SI currently supports courses in Math, English, ESOL, Chemistry, Psychology, and Biology, with plans to expand in future semesters to other subjects.
You can also contact Timurhan Vengco or visit Room 5-110 in the Learning Center (BLDG 5) to find out if SI is offered for a course
Students who attend Supplemental Instruction can:
Develop better understanding of course material
Develop more effective ways of studying
Prepare for tests, exams, papers, presentations, etc.
Interact with other students in your class and build community
Finish the course and get better grades*
*National data shows that students who regularly attend SI, on average improve half of a point on their GPA
The fall 2014 semester represents the first full semester of SI at Skyline College using a voluntary, peer-led model similar to the internationally recognized UMKC model. Although these data represent a small total number of students, the early results are very encouraging for improved success in Math and English.
Become an SI Leader
The role of a Supplemental Instruction Leader (SI Leader) is to assist students in traditionally difficult courses towards successful completion of the course. The SI Leader attends the parent course to understand the content, delivery, and emphases of the class, works with the professor to identify areas where students are experiencing difficulty, and provides 1 - 3 SI study sessions per week for students in that course. An SI Leader serves as a model student, reinforces class concepts, and facilitates students' ability to solve problems.
Check out the SI Leader Job Description .
If you are interested in becoming an SI leader and are in good academic standing with the college, then apply via our Online Application.