Become an EMT
Emergency medical technicians (EMTs) care for the sick or injured in emergency medical settings and lives often depend on their quick reaction and competent care.
The EMT program at Skyline College provides the student with a broad foundation of knowledge in anatomy, physiology, pathophysiology, and emergency care procedures in addition to didactic and skills training, observation in a local hospital Emergency Room and a ride-along rotation with a local ambulance company.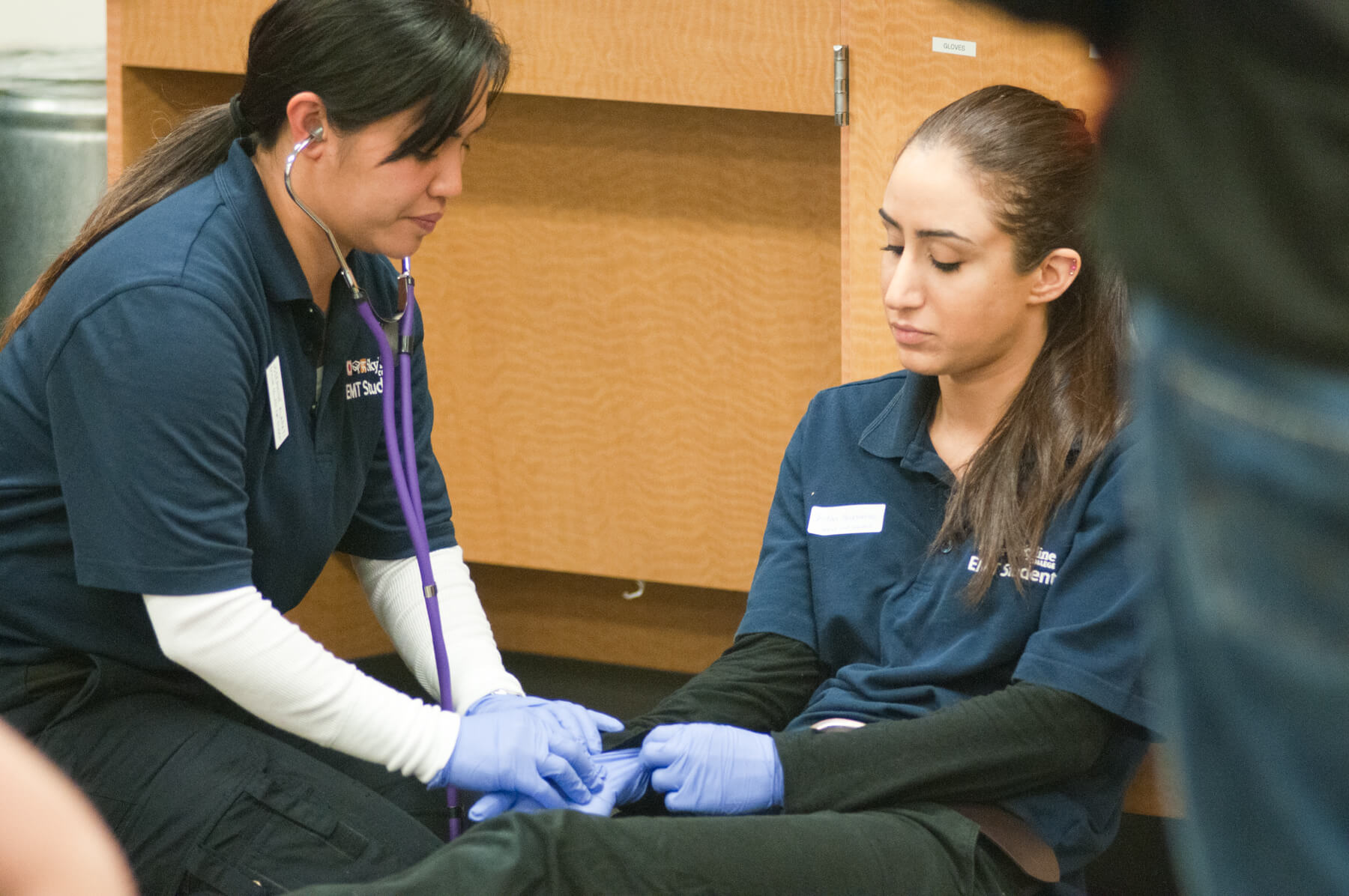 An EMT has the skills to assess a patient's condition and to manage respiratory, cardiac, and trauma emergencies.
Registration for EMC 410:
Complete an application if you are not already a Skyline College student via regular College registration procedures.
Before enrollment, the following prerequisites must be met:
In addition to the required enrollment fees, students should be prepared to pay the following estimated course fees:
Books: approximately $200.00
Medical Supplies: approximately $75.00
Fees are subject to change without notice and current books and supply costs can be found on the Skyline College Bookstore website.
Clinical Sites Requirements:
All students admitted to the program are required to have:
a health care provider complete a Health Report which includes a satisfactory physical examination and immunization documentation verifying freedom from communicable disease
a social security referenced background check and drug test
Personal costs will be associated with these tests, and upon acceptance into the program, students will receive detailed instructions and deadline dates to successfully complete these items. If you are in need of current vaccinations, please contact the Skyline Health and Wellness Center directly for costs, hours of operations, and services offered. Students must submit the Health Report by the deadline provided by the course director. Those who do not comply with this requirement will not be eligible for their state-required clinical rotations.
California EMT Certification Eligibility Requirements:
EMC 410 course completion certificate
Successful completion of a state-approved Emergency Medical Technician (EMT)/EMC 410 Skills Final exam. After successfully completing the course, students must then take and pass the National Registry of Emergency Medical Technicians written exam to be eligible for a state EMT license. For more information on these tests, visit The National Registry of Emergency Medical Technicians website.
EMC Program Contacts
EMC 425 Instructor
Division Contacts