Work at The Learning Center
The Skyline College Learning Center (TLC) offers student-centered, peer-based learning assistance services designed to enhance student academic performance in their courses in order to improve student retention and perseverance toward degree and certificate completion.
If you'd like to help your fellow students progress and succeed as they work towards their academic goals, then you may be an excellent candidate for a position at The Learning Center.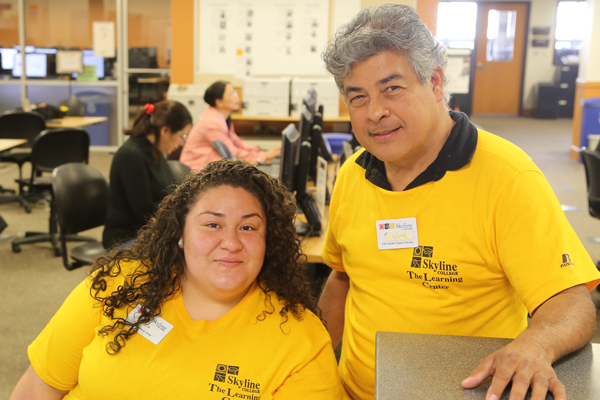 Available Positions at The Learning Center
---
Student Assistant
Part-Time
Salary: $16.20/hour
Student Assistants are currently enrolled Skyline College students who welcome new and continuing students to The Learning Center, provide information and referrals to students and faculty, and help students access the services provided in The Learning Center.
This position is ideal for students who can work effectively in a high-responsibility position both individually and as part of a team. All positions are part-time.
---
Peer Tutors are currently enrolled Skyline College students who provide one-on-one or group tutoring to other Skyline College students.
In order to become a Peer Tutor, students must be able to complete one of two different tutor-training options. Upon completion of either option, tutors will have satisfied the requirements for a Level I CRLA Certificate and may be eligible to work in The Learning Center.
Option A: Students taking this option must enroll in and complete the LSKL 110 Tutor Training course. This option is highly recommended and students will receive CSU transferable course credit upon course completion.

LSKL 110 (CRN: 35564) is a hybrid course that meets in the Learning Center on Tuesdays and Thursdays from 1:00 p.m. to 2:00 p.m.


Option B: Students may be given permission to opt out of enrolling in LSKL 110 and must complete an alternative online training course developed by the tutoring leads
---
Peer Mentors are Skyline College students who have successfully completed a full academic year who help students (mentees) identify and utilize the campus and community resources necessary for academic and social success at Skyline College within a safe space. This position is ideal for students who are passionate about working with our diverse student body and are well-informed about the campus environment. All positions are part-time.
---
Supplemental Instruction (SI) Leaders are peer leaders who support students taking historically difficult classes. SI Leaders attend all lectures of the class they support and facilitate group-study sessions to help students develop skills needed for success in the course. In order to become an SI Leader, students must have passed the course they intend to support with at least a B or higher grade. Students with strong social skills and/or experience overcoming challenging courses are encouraged to apply.
---
The Skyline College Peer Tutor training program is aligned with and certified under the International Tutor Training Certification program of the College Reading and Learning Association (CRLA).