Writing & Reading Lab
ATTENTION: Due to COVID-19, physical access to The Learning Center is not available. We will be able to answer questions through phone, text, chat or email during normal operation hours.
Resources Available to Students:
One-on-one assistance with writing and reading assignments for 200+ courses covering all majors and programs

Academic Success Workshops on sentence construction, parts of speech, essay writing, and more!

Click on the Resources tab in the left navigation for writing and grammar guides, advice on research and documentation, and other online resources!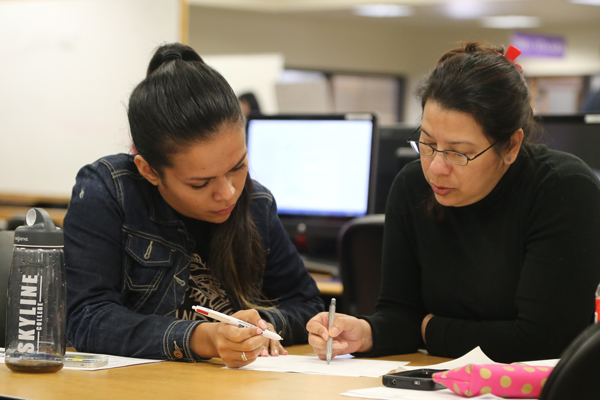 TLC Online Tutoring
Learning Center staff are available in virtual tutoring rooms across disciplines for synchronous, video, or chat drop-in tutoring.
Monday-Thursday, 8:00 a.m - 8:00 p.m.
Friday, 8:00 a.m.-2:30 p.m.
Drop-in Tutoring
(Once choosing the tutoring lab, you will be placed in a virtual waiting room until a tutor is free to meet with you.)
Writing and Reading & ESOL Tutoring
Make an Appointment with a Tutor
Click here, to schedule an appointment with a Learning Center tutor.
* You may also access online tutoring with Learning Center tutors, through Learning Center & STEM Center in the left navigation of your Canvas course shells.
More Tutoring Options for Students
Star-CA: A consortium of colleges working together to offer online tutoring across disciplines. A few of the Learning Center's tutors dedicate time to working as part of this project. Tutoring sessions may or may not be with a Skyline College Learning Center tutors based on tutor schedules.
NetTutor: A third-party online tutoring service that offers tutoring 24/7 across disciplines (Discipline availability and hours vary). Skyline College Learning Center tutors are not available through this service.
*To access Star-CA and NetTutor tutoring click on NetTutor in the left navigation of your Canvas course shells.
Phone Conference Tutoring: TLC offers 15 minute phone conferences for students with quick questions about assignments. To make an appointment (email, phone and/or online tutoring) with a Learning Center tutor please submit a tutoring request form.
Additional Learning Center Services
Students may access other Learning Center remote services through our LSKL 800 and LSKL 803 Canvas course shells. If you are not currently registered for LSKL 800 or LSKL 803:
Go to WebSMART to register for LSKL 803. This is a free, non-credit course that simply provides access to tutoring
OR
Request to be added to the LSKL 803 Canvas shell by sending your name and G# to: skytlc@smccd.edu