Skyline College Technology Support
Learning Technology Support
The Learning Tech Support desk is located next to our Drop-In Computer Lab. We assist students, faculty, and staff with in-Library printing, scanning, photocopying or working with computers (as well as in room 5200A). We provide support for Canvas and WebSMART, as well as programs such as Microsoft Office 2013 and various Google apps to aid student success.
We do not fix hardware issues, remove viruses, or install software. Our support is focused on learning technologies and tools to aid you in your academic work.
Click here for Help with resetting your Canvas Password
Click here for Help with resetting your WebSMART Pin
Click here for Help with resetting your My.smccd.edu Password
For general online support, click on the name of the system:
Get Help
Learning Tech Support Hours & Contact:
| Days | Times |
| --- | --- |
| Mon-Thurs | 8:00am - 9:00pm |
| Fri | 8:00am - 4:00pm |
| Sat | 12:00pm - 5:00pm |
Connect with Us:
Make an Appointment
Email Us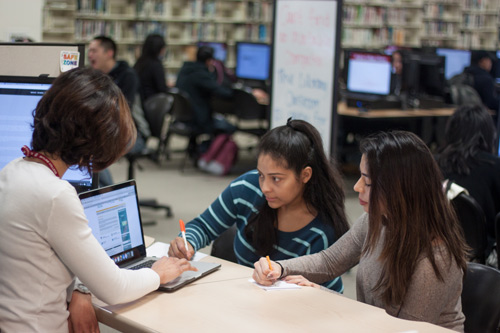 Software/Hardware
The drop-in lab is located in the center of the library (Building 5, Second Floor). Students have access to 40 desktop computers running Microsoft Windows 7 and 10. The drop-in lab computers feature up-to-date software such as Microsoft Office, Adobe software, and more.
If the drop-in lab is full, please contact us and we will check on the availability of computers in room 5200A.
All students and library patrons must adhere to the Skyline College Computer Use Policies at all times.