Stanford Mobile Medical Clinic is on campus 6/30 and 7/21!
Students age 12-25 can drop in to the clinic between 10am - 3pm for FREE services. The van is parked in front of Building 4, near the drop‑off circle.
Services include:
Physical exams (including sports physical exams)
Vaccines/immunizations
Medications (for asthma, allergies, etc.)
Acute illness and injury care
Free medication and prescriptions available in the van
Sensitive services:
Family planning options and birth control (including condoms)
Pregnancy testing
Testing and treatment for sexually transmitted infections (STIs)
Mental health support (counseling/therapy and community referrals)
Substance use counseling for tobacco, alcohol, and drug abuse
Nutritional counseling (healthy eating, weight management, etc.)
Wellness groups and class presentations on health-related topics
COVID-19 testing
You can also make an appointment for 7/21/22 by calling 650-736-7172 or emailing teenvan@stanfordchildrens.org.
Appointments for the 7/21 Mobile Medical Clinic can also be made via Skyline College at 650-730-4270 or Elliott@smccd.edu
STUDENTS CHECK OUT THESE HELPFUL LINKS: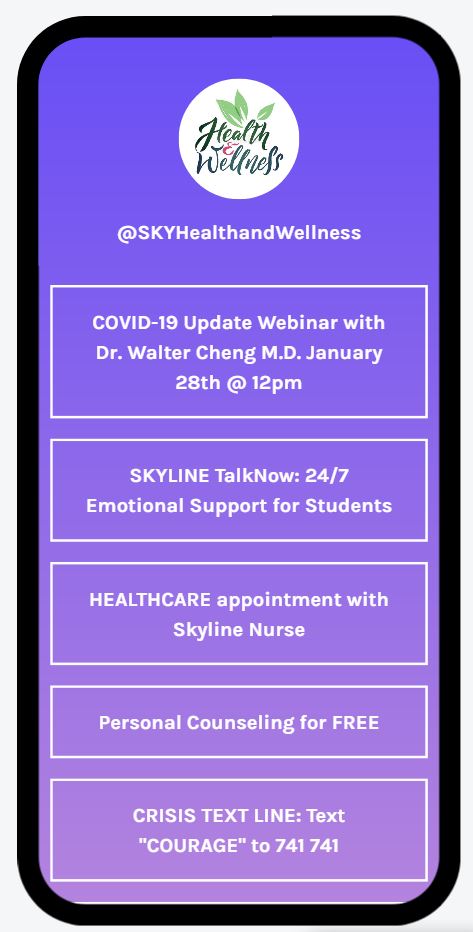 All students have access to Health & Wellness Services. We provide health care, personal counseling services, health & wellness education and referrals to off campus resources. Our mission is to cultivate a holistically healthy, safe and equitable community. We commit to advancing health equity; so every person has the opportunity to attain their full health potential: physically, emotionally, socially, mentally and academically.
Mental Health Crisis Information